In life we all have times that test our minds and challenge our character.  Often "change" whether it's minimal or drastic is difficult to adapt to.  It forces us to change our mind and our thoughts in order to do the required physical behavior that is new and different.  Sometimes dramatic things occur in this world that can be heartbreaking leaving us in a state of mental chaos.  This mental chaos can truly be difficult to snap out of.  If not, this chaos can ruin one's mind and will force unwanted behavior.
Luckily for us all, we have a way to fight this.  A gift has been given to us all and it resides inside of each and every one of us.  Our Heavenly Father gave us the GIFT of the Holy Spirit.  We have access to the most pure and unchanging constant state of being if we only believe in it and access it.  Believing in our Heavenly Father and his made available Holy Spirit gives us power beyond belief.  Having a relationship with God and allowing his son Jesus Christ to walk and talk with us will give us the power we all need to fight back when our world seems in disarray.  Don't live your life alone fighting the battles that Satan brings before you.  Rise above these battles and let Jesus and the Heavenly Father fight them for you by praying and talking to them.  The Holy Spirit gives you this power, we all just have to remember that nothing is too small or too big for them to defeat for you.
This song by Ryan Stevenson titled "In The Eye Of The Storm" is a wonderful reminder of trusting in the power of our Heavenly Father!
Listen to "In The Eye Of The Storm" Now!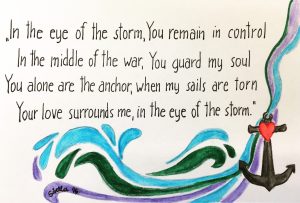 In the eye of the storm, You remain in control
And in the middle of the war, You guard my soul
You alone are the anchor, when my sails are torn
Your love surrounds me in the eye of the storm
When the solid ground is falling out from underneath my feet
Between the black skies, and my red eyes, I can barely see
When I realize I've been sold out by my friends and my family
I can feel the rain reminding me
In the eye of the storm, You remain in control
In the middle of the war, You guard my soul
You alone are the anchor, when my sails are torn
Your love surrounds me in the eye of the storm
Mmm, when my hopes and dreams are far from me, and I'm runnin' out of faith
I see the future I picture slowly fade away
And when the tears of pain and heartache are falling down my face
I find my peace in Jesus' name
In the eye of the storm (yeah, yeah)
You remain in control (yes you do, Lord)
In the middle of the war, You guard my soul
You alone are the anchor, when my sails are torn
Your love surrounds me (Your love surrounds me)
In the eye of the storm (in the eye of the storm)
When the test comes in and the doctor says I've only got a few months left
It's like a bitter pill I'm swallowing; I can barely take a breath
And when addiction steals my baby girl, and there's nothing I can do
My only hope is to trust You
I trust You, Lord
In the eye of the storm (yeah, yeah) You remain in control
In the middle of the war (middle of the war), You guard my soul (yeah!)
You alone are the anchor (ooh), when my sails are torn
Your love surrounds me (yeah!)
In the eye of the storm, You remain in control (yes you do, Lord)
In the middle of the war (in the middle of the war), You guard my soul
You alone are the anchor (ooh), when my sails are torn
Your love surrounds me in the eye of the storm, oooh
Oh, in the eye of, oh, in the eye of the storm
I know You're watching me, yea, ay
When the storm is raging (when the storm is raging)
And my hope is gone (and my hope is gone, Lord)
When my flesh is failing, You're still holding on, oh whoa
When the storm is raging (the storm is raging)
And my hope is gone (and all my hope is gone)
When my flesh is failing (my flesh is failing)
You're still holding on, oooh
When the storm is raging (when the storm is raging)
And my hope is gone (and my hope is gone)
Even when my flesh is failing (flesh is failing)
You're still holding on, holding on
The Lord is my Shepherd
I have all that I need
He lets me rest in green meadows
He leads me beside peaceful streams
He renews my strength
He guides me along right paths, bringing honor to His Name
Even when I walk through the darkest valley, I will not be afraid
For You are close beside me