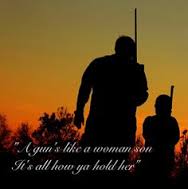 Wow what a great song by the former lead singer of Staind, Aaron Lewis!
He has made so much good music since leaving Rock And Roll and coming over to Country!  His lyrics and songs are what this country was built on.  They tell the stories of the hard working men who love their family, love their children, love their land, work hard and love their father in Heaven!
This song showcases grandfather, father and the grandson relationship of the country living man in the USA!  Granddaddy's gun is a family respected heirloom passed down from generation to generation!  Receiving this as a gift for father is how I would view it when it is handed down to me!
Listen To Granddaddy's Gun, by Aaron Lewis!
It sits above the mantel on a couple rusty nails
It ain't worth a lot of money and it damn sure ain't for sale
The good Lord only knows all the stories it could tell
My Granddaddy's gun
He bought it new out of the Sears and Roebuck catalog
And it shot a many shells over the back of an old bird dog
It backed a burglar down when grandma took the safety off
Granddaddy's gun.
[Chorus:]
It's just an old double-barrel twelve
The stock is cracked and it kicks like hell
It wouldn't mean what means to me to no one
I can still hear his voice when I put it to my shoulder,
"A gun's like a woman, son, it's all how you hold her."
He taught me a whole lot more than how to hunt
And one of these days I'll pass it on to my grandson
My Granddaddy's gun
He handed it to me on the day I turned thirteen
With a half-shot box of shells and a kit to keep it clean
I keep a picture in the case of that sweet old man and me
Granddaddy's gun
[Chorus:]
It's just an old double-barrel twelve
The stock is cracked and it kicks like hell
It wouldn't mean what means to me to no one
I can still hear his voice when I put it to my shoulder,
"A gun's like a woman, son, it's all how you hold her."
He taught me a whole lot more than how to hunt
And one of these days I'll pass it on to my grandson
My Granddaddy's gun
There's a long beard hanging on the living room wall
That I got with a box call
And Granddaddy's gun
There's a shot up stop sign on forty nine
That me and Billy Joe shot up one night
With Granddaddy's gun
It sits above the mantel on a couple rusty nails
It ain't worth a lot of money and it damn sure ain't for sale